An Equipment Profile geared to professional results
ABM Engineering Mobile Welding & Fitting capabilities are evident by our equipment profile and fully equipped Austral workshop.
MIG: . 6mm to 2.4 wire: ( truck)
STICK: capacity: 500 amps (truck)
200 amp Double Pulse MIG welder with push / pull gun for aluminium (truck)
200 amp AC/DC Pulse TIG welder (truck)
500 amp DC Stick welder: (truck)
Plasma cutter (truck)
Oxy-Acetylene cutting (truck)
Oxy Quick cutter (truck)
Air Arc gouging (truck)
Thermic Lancing (truck)
Air tools, power tools, hand tools (truck)
Large 60 cfm air compressor (truck)
Hydraulic Porta Power (truck)
Chain Lever blocks ( truck)
Large plant trailer: pick up / delivery
Within the parameters of our equipment we can repair set up and fabricate or customise most metal jobs.
Contact mobile welder, Andy McLeod at ABM Engineering Mobile Welding & Fitting with details of your next project.
A fully equipped mobile workshop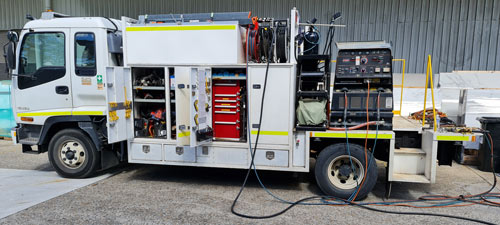 ABM Engineering Mobile Welding & Fitting has the skill set and equipment profile to confidently tackle almost any welding repair or fabrication and give you the results you want.